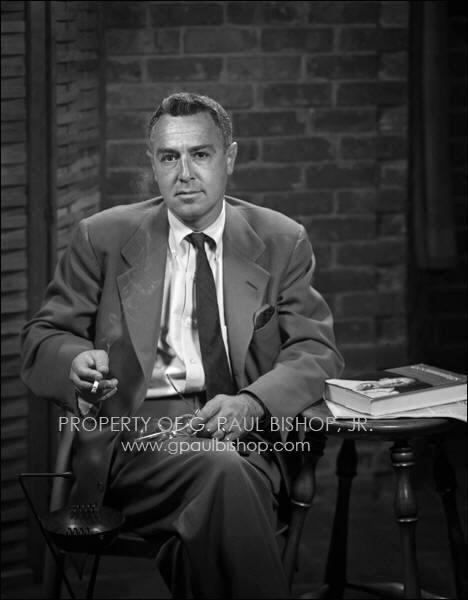 "Karl Shapiro" Photographed by g. Paul Bishop, '55
©2019 G. Paul Bishop, Jr.
- IMAGE NO LONGER AVAILABLE -

Karl Shapiro
(Karl Jay Shapiro)
1887 - 1975

Poet
Poet Laureate
Pulitzer Prize in Poetry, 1945

-----

List of Additional Links

Karl Shapiro
From Wikipedia, the free encyclopedia
www.wikipedia.org

-----

Karl Shapiro was born in Baltimore, Maryland, on November 10, 1913. After graduating from high school there, he enrolled at the University of Virginia but found that he was more interested in writing than studying and soon withdrew. While at various jobs in Baltimore and studying his own, Shapiro wrote "many long poems and plays in verse, nearly all of which I later destroyed"; the collection of shorter poems that he published in 1935 went largely unnoticed. He resumed his formal education at John Hopkins University but was inducted into the Army before receiving his degree and served in the South Pacific until the Second World War was over. While overseas, Shapiro continued to write poetry, while his fiancée Evelyn Katz (whom he married in 1945) sought successfully to get it published. His book, V-Letter, won the Pulitzer Prize for poetry in 1945. When he returned to civilian life, he was well known in American letters and served for a year as poetry consultant to the Library of Congress; he then taught at John Hopkins. In 1950 he succeeded Hayden Carruth as editor of Poetry magazine, a post he held until 1956, when he joined the faculty of the University of Nebraska and became editor of Prairie Schooner. He presently teaches at the University of California at Davis.

__________

Ellmann, Richard and Robert O'Clair. Modern Poems: An Introduction to Poetry.
New York: W.W. Nortin & Company, 1973, p. 316.

-----


--- All material is copyright protected ---