| < BACK |

__


ADDITIONAL
IMAGES



Dean Acheson 2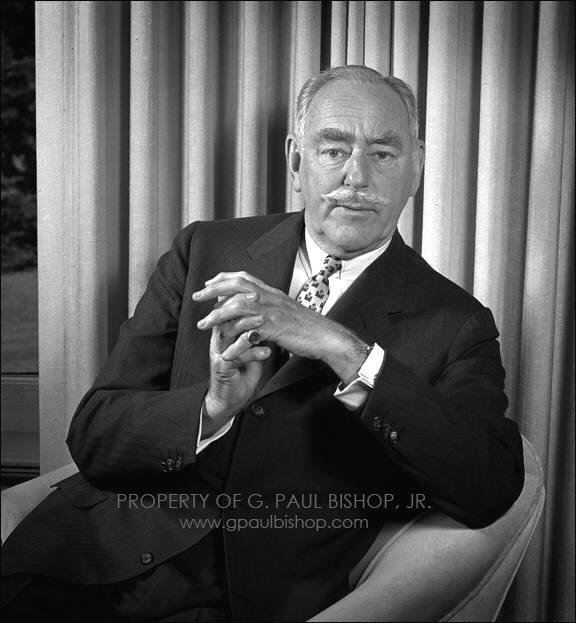 "Dean Acheson" Photographed by g. Paul Bishop, '63
©2019 G. Paul Bishop, Jr.
- IMAGE NO LONGER AVAILABLE -

Dean Acheson
(Dean Gooderham Acheson)
1893 - 1971

U.S. Secretary of State (1949-1953)

-----

List of Additional Images

-----

List of Additional Links

Dean Acheson
From Wikipedia, the free encyclopedia
www.wikipedia.org

-----

Such An Insult
By Jim Dempsy
THE BERKELEY DAILY GAZETTE
1963
Berkeley's Paul Bishop, nationally famous photographer with studio on Durant Ave., has shot (on order) a long list of very prominent persons, ranging from former President Eisenhower1 on down. Just recently he was commissioned to do portraits of both Dean Acheson and his wife. Paul was justly proud of the beautiful portraits and put them in the window of his studio. Recently he ran across a local businessman whom he knew and the man commented that he had noticed the Acheson portrait in Bishop's front window when he walked by one day. Then he asked --- in all sincerity --- if Paul had "copied the picture out of some magazine just to try to impress people."


1. This is not necessarily true, unless g. Paul Bishop photographed General Eisenhower during World War II, which is highly unlikely. (G. Paul Bishop, Jr. note).

__________

Dempsey, Jim. "Such An Insult, (Jim Dempsey: Berkeley Is My Beat)."
The Berkeley Daily Gazette. Friday, April 26, 1963.

-----


--- All material is copyright protected ---